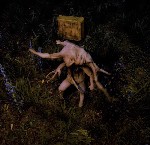 Champions of The Forest WORK IN PROGRESS
Totally Not Hazard
Subscribe to this mod
Like
Hi, new update comming late. Monday/Tuesday. I'm really busy this whole week.
Keep dm-ing me those bug
So far i only got those:
Re-equipping items with carrying cap increase is broken
Kills not being counted for massacre/not giving exp
Some people go invincible and cant deal damage at the same time
Health shows decimals
Host gets less experience
Mod requires BUILDER CORE & BUILDER MENU to work
Don't use this mod with PUP or UCM
How to install:
1.Download this mod and the two listed above.
2.Enable all 3 mods in modapi.
3.Run the game through modapi.
4.Wait for all the extra files to download. Those files contain textures and models.
What are this mod's features?
There are custom weapons, first and thus far only mod that adds weapons
It turns the game into a diablo spinoff
Custom, old fashioned inventory
Equipement items that drop from enemies
Enemies have levels, which make them stronger and faster. Some enemies can have special 'elite' abilities that will make players life harder
Enemies have names. You can kill me, modapi staff, the forest youtubers and maybe your ex.
Custom stats like max health, intelligence,agility
Many of already in-game mechanics reworked
Players have spells to make the combat more dynamic
Leveling system, with upgrade points
Player upgrade points 2
Pretty visuals and Interface
Buffs for singleplayer and coop
9 more difficulites
Proper saving - saves at a shelter
Works in multiplayer. Includes custom enemy stats, casted spells, sharing experience and COTF's item drops
Option to enable friendly fire - weapons will deal full damage to other players
Automatic downloading and verification of extra assets (textures and 3D models).
What doesn't this mod feature (as of now):
Support for dedicated servers
Variety of spells, currently there are only 3
Variety of items, and more importantly high tier items. You can make only few builds using the items that are already added
Balance. You might oneshot everything. Everything might oneshot you.
Variety of perks
3 enemy affixes are still useless and do absolutely nothing
There is no stat/guide view
There are no accurate descriptions
Known bugs
With SSAO set to Amplify models using displacement maps (for example Greatsword in hand) appear completely dark. It can be fixed by disabling it or swtiching to Unity
Gallery:
Since this is a incomplete mod, you can press f5 to spawn a random item.
Difficulty descriptions (Normal-Master) by Alex Armsy :)
34 awesome items added by Kaspito ;)
To fellow mod creators:
I have made this mod open source, as i would like to see the developement of modding and of ModAPI.
If you would like to make a mod of your own, and consider any of the solutions used in Champions of the Forest as useful, you are free to pick up whatever you want and implement it in your project.
The Sauce:
My github

Did i do a good job making this mod?
Did i do a very good job?
Consider tipping me on paypal, mods are free to use, but it would be great to earn something from making them. Currently im saving for new RAM sticks
HUGE thanks to Florian & Kaspito for generous donations
| | |
| --- | --- |
| File | ChampionsOfForest-0.6-aed6a46ffdf00ad6683d036cfea71376.mod |
| Compatible | 1.10d |
| Version | 0.6 |
Buttons
Name
Description
Button
Toggle Menu
opens and closes the main menu
Tab
First Spell
F1
Second Spell
F2
Third Spell
F3
Forth Spell
F4
Fifth Spell
F5
Sixth Spell
F6
Pick up items
E
Equip custom weapon
Alpha5
videogame_asset
The Forest
label
Worldchanges