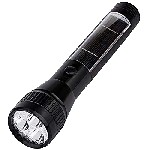 Light the Way
Ashe
Subscribe to this mod
Like
There are a handful of flashlight mods available for download right now, but I have gripes with each of them; as a result, I decided to try my own flavor.
Light The Way
is my try at making a better plastic torch without warping its balance completely or making it brighter than the sun. The list of changes are simple and are as follows:
Greatly increased brightness.
Simple, circular texture instead of the very dim default one.
One pack of batteries lasts roughly 30 minutes, instead of 8.
Each of these changes affects the plastic torch, any mounted lights on weapons, and the rebreather's spotlight. They're primarily intended for the plastic torch, though, and aim to bring it from "useless" territory to "powerful" territory without breaking the balance.
Before
After
Any mods that change the function of the flashlight will probably not play nice with this one. As long as it doesn't touch the light function, rebreather-affecting mods should be fine.
Changelog
1.0.2: Removed the texture cutoff at the bottom of the light.
1.0.1: Reduced percentage battery drain per second from 0.1 to 0.05.
1.0: Initial release.
| | |
| --- | --- |
| File | LightTheWay-1.0.2-0f635551fe068f55b89fb0e035f761cb.mod |
| Compatible | 1.10d |
| Version | 1.0.2 |
videogame_asset
The Forest
label
Balancing