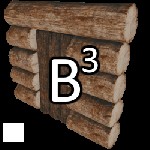 Building But Better
Ashe
Subscribe to this mod
Like
Building But Better
is a little mod made to make positioning and rotation less frustrating. It does this by adding two functions:
Lock/Unlock by pressing U. When locked, ghosts won't move with your mouse, allowing you to see how they're positioned and rotate accordingly.
Reset Rotation by pressing F2. This resets the ghost's rotation to 0 degrees. This applies to the world, not the location you're placing it on. It won't align perfectly with foundations and such by doing this.
All keys can be reassigned in the Settings menu in ModAPI for this mod.
I intend to add new functions as they occur to me.
| | |
| --- | --- |
| File | BuildingButBetter-1.0.0.0-07aeb9fcf3e6611f38e4b4450b017bd6.mod |
| Compatible | 1.10d |
| Version | 1.0.0.0 |
Buttons
Name
Description
Button
Lock/Unlock Ghost
Locks or unlocks the placement ghost of a building in place.
U
Reset Rotation
Reset's an object's angle to 0 degrees relative to the world (not to the structure it's placed on.)
F2
videogame_asset
The Forest
label
Buildings