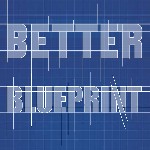 Better Blueprints
Moritz
Subscribe to this mod
Like
Features:
Quickinteract (Lets stop the spamming)
Reverse rotate (Default button is [F])
Build everywhere (Fuck physics, lets play minecraft)
Customize blueprint color (Including transparancy)
No anchorpoint limit (Build huge and complex uctures)
Infinite zipline (Insert some text here)
To use quickinteract just hold down the key for half a second.
Stuff like the blueprint color and some cheaty things like build everywhere can be changed/toggled in the config file located at:
"The Forest/Mods/BetterBlueprints.settings"
When build anywhere is activated, the blueprints will still be colored red when positioned in previously non allowed positions. To build them anyways just confirm with your mouse.
Colors in the config are in percentage (100 = 100%)
Source Code
---
You enjoy my work? A donation would be great! - https://paypal.me/MScheve
| | |
| --- | --- |
| File | BetterBlueprints-2.0.0-48050d3cb40c021dc79cc23d761f32be.mod |
| Compatible | 1.07 |
| Version | 2.0.0 |
Buttons
Name
Description
Button
Reverse Rotate Key
Reverse Rotate Key
F
videogame_asset
The Forest
label
Buildings