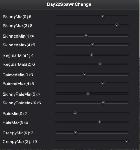 Day22SpawnChange
disi
Subscribe to this mod
Like
With the UI ingame you can change the spawn for Skinny, Skinned, Pale, Painted, Regular and Creepy on the surface.
I like to play the game like a sandbox and the interaction with the cannibals, but hate the monster spawns. With this tool I can set the monsters to 0 or set them all 0 if I want to build a bigger project without changing the game mode.
This works for any day in the game now.
Spawnrates are updated every day, if you sleep, enter a cave or press the button.
Day22SpawnChange
Skinnys only video
| | |
| --- | --- |
| File | Day22SpawnChange-1.0.2.2-bc1c9db4aa900836d64cddab3708ff21.mod |
| Compatible | 0.68b |
| Version | 1.0.2.2 |
Buttons
Name
Description
Button
OpenGUI
Open the UI to change spawn settings.
O
videogame_asset
The Forest
label
Enemies