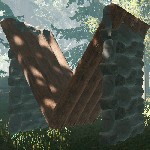 Farket Roofing (SP Only)
<<|XG|>> Unreal
Subscribe to this mod
Like
Ever needed to place roofing upside down for some cool project, well now you can. This mod lets you place custom roof upside down as well as the right way up.

If you want to height adjust for 3 points you either need to return back to point 1 or press 'E' when at 3rd point.
Any more than 3 points and you HAVE to return back to point one in order to allow changing height, otherwise the angle you are looking at the roof will be placed at.

This mod is only working in single player.
| | |
| --- | --- |
| File | FarketRoofing-1.1-ac2e1c8ed4c4e5099d8bbce7dc3230c0.mod |
| Compatible | 1.09 |
| Version | 1.1 |
videogame_asset
The Forest
label
Buildings