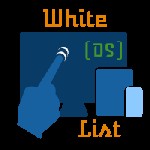 [DS] WhiteList
Cleetus
Subscribe to this mod
Like
WARNING: THERE IS A BUG THAT I AM TRYING TO FIX - DO NOT RELY ON THIS FOR NOW. USE IN CONJUNCTION WITH PASSWORD. UPDATE WILL BE PUSHED TO FIX ASAP.
This is a mod to enable using a WhiteList file for securing your Dedicated Server to selected users.
Create a text file called WhiteList.txt in:
C:\Program Files (x86)\Steam\steamapps\commonTheForestDedicatedServer\TheForestDedicatedServer_Data
(unless you have installed somewhere else)
The format for this file is very simple:
steam64id0 name0
steam64id1 name1
steam64id2 name2
steam64id3 name3
steam64id4 name4
NOTE:
Each line is a player. steam64id and name are separated by a SINGLE SPACE. Anything after the first Space is Ignored (for now).
Replace steam64id with the steam64id of the player you wish to allow on the server.
Replace name with the player's name or handle (this does not get checked, so it can really be anything).
| | |
| --- | --- |
| File | DS_WhiteList-1.0.0.3-e84ed6678d2b5e07e2c4105357bf2155.mod |
| Compatible | 1.09 |
| Version | 1.0.0.3 |
Buttons
Name
Description
Button
DSWL_Update
Updates Interal List from txt file
R
videogame_asset
The Forest Dedicated Server
label
Multiplayer